Authentically engage your students with math and science!
QUICK setup, QUALITY time with your students, and EASY grading with our FREE STEM online video games.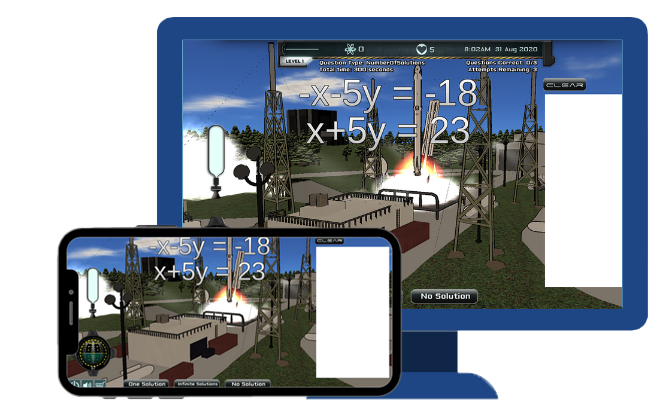 The Games
Mapped to Common Core
Rest easy knowing that your students are playing games that teach them skills they'll be tested on!
Focus on relationships
Our games fit into your lesson plans and take care of motivating your students so you can get back to the student relationships that matter most to you.
Track student progress
Our grading system allows you to keep track of student progress and intervene as required.
Perfect for asynchronous learning!
Expertly crafted animation and rewarding levels of gameplay motivate student engagement.
7 math games give students variety and structure
Students can make mistakes and learn
Mapped to Common Core
Expert Content
Designed by educators and game designers with years of experience in elementary education
Structured
Facilitate independent learning. You can use the math games in your lessons or assign them for homework.
Track Student Progress
Help streamline your classrooms to get students on the same page and equally touched, with fewer students left behind
Find what problems were difficult on an individual basis
Intervene as necessary
Simple scoring dashboards
Coming soon: see your student's work!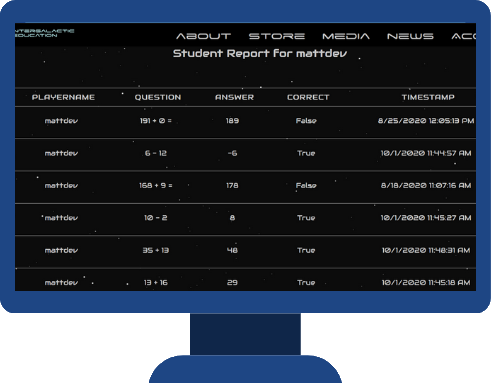 Easily Setup Student Accounts!
After you sign up, it's easy to setup and manage student accounts to get your students playing in no time!
Simple dashboards to manage your student accounts
Get a bird's eye view of your students
Free for a limited time!
EXCLUSIVE Beta Testing Deal
Early Adopters Get
FREE Access to all games except Solar System
FREE Access to premium score reports
FREE Unlimited tech support
You're in great company.
See what other teachers say about us
"Easy to navigate, and the most useful part is the student reports that display each...question the student answered, and which ones were right."
Joshua Eastwood - SPR Mathematics, Saint John High School
"This is the future of education."
David Wood - 8th Grade Honors Algebra Teacher, Milton Somers Middle School
Past pilot programs
Milton M. Somers Middle School
Piccowaxen Middle School
Argyle Middle School
Roberto Clemente Middle School
Francis Scott Key Middle School
Parkland Middle School
Neelsville Middle School
A. Mario Loiederman Middle School
Oak View Elementary School
Quince Orchard High School
FAQ
How will Intergalactic Education serve the community during the pandemic?
Intergalactic Education makes it easier for parents and teachers to teach their students Math and Science.
What platforms can I play games from Intergalactic Education on?
Our games can be played from most desktop web browsers, Android and Apple devices.
If I have an account on one platform, can I use it for another?
Yes, all accounts can be used on any platform.
Can I use the same account for multiple games?
Yes.
Ready to get started?
Contact us or sign up now.